We, the people of the Milford Republican Party, do stand united in our dedication to preserving freedom, limited government and unlimited opportunity for all.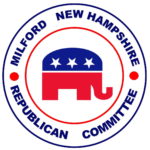 We believe, above all else, in the founding principle that all people are created equal, endowed by our Creator with the right to life, liberty and the pursuit of happiness, unimpeded by intrusive government regulation and control.
We believe that the New Hampshire and United States Constitutions were written by our forefathers to limit our government, not our freedom.
We believe that individual liberty is guaranteed under the Constitutions of the United States and New Hampshire, that the liberty of the people must be protected above the power of the government, and that it is only through an adherence to our founding documents that we will continue to grow as a free, Constitutional Republic.
We believe that the Founding Fathers gave the 1st Amendment its pre-eminent position with intent that religious freedom deserves to be protected.
We believe that the 2nd Amendment is in a position of prominence with the intent that law-abiding citizens of the United States of America have a right to protect and defend their lives, their families and their property without government infringement.
OFFICERS
John Yule, Chair
Andy Seale, Vice Chair
Susan Story, Secretary
Steve Story, Treasurer
EXECUTIVE COMMITTEE
Gary Daniels
Len Mannino
Andy Seale
Vanessa Sheehan
Steve Story
Susan Story
Mike Thornton
Dave Wheeler
John Yule
CONTACT
Mailing Address
16 Reserve Way
Milford, NH 03055
Email Address
info@milfordgop.org
Facebook/Messenger
@MilfordNHGop
Twitter
@MilfordNHGop
MEETINGS
Our regular monthly meetings are held on the 3rd Saturday of each month 9:00 AM at the Milford Police Station. Guest speaker information will be posted on our EVENTS page, EMAILED to members and friends the week prior, as well as posted on our FACEBOOK page.